This preview shows page 1. Sign up to view the full content.
View Full Document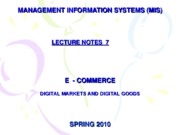 This is the end of the preview.
Sign up
to access the rest of the document.
Unformatted text preview: The economics of information has caused a revaluation in commerce. As a result many The new business models emerged and many old business models became no longer tenable. new All new Business Models that have emerged: • Use the Internet in one way or the other, se • Add extra value to existing products and services • Provide the foundation for new products and services. Provide Most of these Business Models are called '' Pure-play Business Models '' because: Most Pure-play • They are based purely on the Internet. They • They did not have an existing ''Bricks-and-Mortar Business'' when they designed their internet business. However some firms like The Wall Street Journal, L.L Bean, Office Depot etc…. Have developed Web sites as extensions of their traditional Bricks-and-Mortar businesses. Such businesses represent a hybrid called ''Click-and-Mortar Business Model '' INTERNET BUSINESS MODELS INTERNET 1. COMMUNICATION AND COMMUNITY MODEL 1. COMMUNICATION Some of the new Business Models take advantage of the internet's rich communication cap...
View Full Document
This note was uploaded on 08/12/2011 for the course ITEC 421 taught by Professor Huseyingursev during the Spring '11 term at Eastern Mediterranean University.