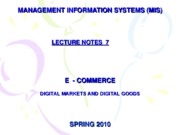 This is the end of the preview.
Sign up
to access the rest of the document.
Unformatted text preview: ogy to a wider range of activities and broaden their circle of trading partners. wider The Internet and Web technology enable businesses to create new electronic storefronts for selling to other businesses with multimedia graphic displays and interactive features similar to those for B2C commerce. B2C B2B ELRCTRONIC COMMERCE: New Efficiencies and Relationships B2B Businesses can use Internet technology to create Extranets or Electronic Marketplaces for linking to other businesses for purchase and sale transactions. Private Industry Networks (Private exchange) typically consist of a large Private firm using an Extranet to link with its Suppliers and other key Business partners. The Private Network is owned by a buyer, and it permits the firm and designated suppliers, distributors, and other business partners to share : share • • • • Product design and development , Production scheduling , Production Marketing Marketing Inventory management , B2B ELRCTRONIC COMMERCE: New Efficiencies and Relationships B2B Figure –A Private Industrial Network e.g. VWGroupSupply.com links the Volkswagen Group and its Supplier...
View Full Document
This note was uploaded on 08/12/2011 for the course ITEC 421 taught by Professor Huseyingursev during the Spring '11 term at Eastern Mediterranean University.