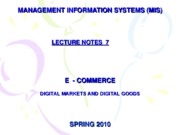 This is the end of the preview.
Sign up
to access the rest of the document.
Unformatted text preview: and Relationships About 80% of B2B e-commerce is still based on proprietary Systems for About Electronic Data Interchange (EDI), which enables the computer-to-computer exchange between two organizations of standard transactions such as Invoices, Bill of lading, Shipment schedules, or Purchase orders. Bill Transactions are automatically transmitted from one Information Systems to Transactions another system through a network, eliminating the printing and handling of paper at one end and the inputting of data at the other. Every major industry has EDI standards that define the structure and information fields of electronic documents for the particular industry. EDI originally automated the exchange of documents such as Purchase Orders, Invoices, and Shipping notices. Also firms engaged in Just-In-Time Inventory Replenishment and continuous Production use EDI as a System for continuous Replenishment. B2B ELRCTRONIC COMMERCE: New Efficiencies and Relationships B2B Suppliers have online access to selected parts of the Purchasing firm's Suppliers production and Delivery Sc...
View Full Document
This note was uploaded on 08/12/2011 for the course ITEC 421 taught by Professor Huseyingursev during the Spring '11 term at Eastern Mediterranean University.