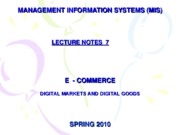 This is the end of the preview.
Sign up
to access the rest of the document.
Unformatted text preview: ded by the Blogging Blog Service or Software and hence require no knowledge of HTML Therefore, people without HTML skills of any kind can post their own Web pages, and share content with friends and relatives. The totality of Blog-related Web sites is often referred to as the Blogosphere. Blogosphere. The content of Blogs range from individual musing to corporate The communications. communications. • Companies that maintain Public Blogs use them as a new channel for ublic reaching customers. ELECTRONIC COMMERCE (E-commerce) ELECTRONIC BLOGS (Continued) Corporate Blogs provide a personal and conversational way for businesses to present information to the public and prospective customers about new products and services.. Readers are often invited to post comments. products Markets are starting to analyze Blogs as well as Chat Groups and Message ssage Boards to see what is being said online about new products, old brands, and oards ad campaigns. ad • Blog-watching Services that monitor popular blogs, claim that that claim ''Blog- watching can be cheaper and faster for analyzing consumer interests an and sentiment th...
View Full Document
This note was uploaded on 08/12/2011 for the course ITEC 421 taught by Professor Huseyingursev during the Spring '11 term at Eastern Mediterranean University.