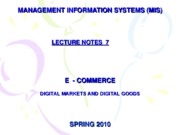 This is the end of the preview.
Sign up
to access the rest of the document.
Unformatted text preview: TRONIC COMMERCE PAYMENT SYSTEMS ELECTRONIC 5. DIGITAL CASH (E-Cash) DIGITAL Digital Cash is currently represented in electronic form that moves outside the normal network of money. Digital Cash users are supplied with Client Software to exchange money with another e-cash user over the Internet or with a retailer accepting e-cash. Digital Cash can be useful for people who do not have Credit Cards and wish to make Web purchases as well as facilitating micropayments. e.g. ClearBIT is an Example of a Digital Cash service. ELECTRONIC COMMERCE PAYMENT SYSTEMS ELECTRONIC 6. PEER-TO-PEER PAYMENT SYSTEMS 6. Web-based Peer-to-Peer Payment Systems serve people who want to send money to vendors or individuals, who are not set up to accept Credit Card Payments. The party sending money uses his Credit Card to create an account with designated payment at a Web site dedicated to Peer-to-Per Payments. Peer-to-Per The Recipient ''Picks up'' the payment by visiting Web site and The '' supplying information about where to send the payment (i...
View Full Document
This note was uploaded on 08/12/2011 for the course ITEC 421 taught by Professor Huseyingursev during the Spring '11 term at Eastern Mediterranean University.