This preview shows page 1. Sign up to view the full content.
View Full Document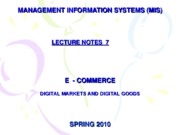 This is the end of the preview.
Sign up
to access the rest of the document.
Unformatted text preview: ries, such as Office Equipment or Transportation. Example 1: Exostar is an Industry owned Net Marketplace (Sponsored by Aerospaced and Defense industries), focusing on long-term Contracts purchasing relationships and on providing common networks and computing platforms for reducing supply chain inefficiencies. ELECTRONIC COMMERCE (E-commerce) ELECTRONIC Example 2 'Exchanges' are independently owned third-party Net Marketplace that connects thousands of Suppliers and Buyers for Spot Purchasing. • Nowadays, suppliers are reluctant to participate in 'Exchanges' since they encourage competitive bidding that drove prices down and do not offer any long term relationships with buyers. MOBILE COMMERCE (M-COMMERCE) MOBILE Wireless Mobile devices are starting to be used for purchasing Wireless goods and services as well as transmitting messages. goods M-COMMERCE APPLICATIONS AND SERVICES M-commerce Applications have taken off for services that are time-critical, M-commerce that appeal to people on the move, or that accomplish a task more efficiently than other methods. than 1. Content and Location-Based Services 1. 2. Banking and Financial Services 2. Banking 3. Wirel...
View Full Document
This note was uploaded on 08/12/2011 for the course ITEC 421 taught by Professor Huseyingursev during the Spring '11 term at Eastern Mediterranean University.