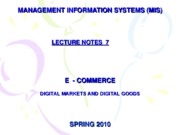 This is the end of the preview.
Sign up
to access the rest of the document.
Unformatted text preview: estaurants. in MOBILE COMMERCE (M-COMMERCE) MOBILE 4. Games and Entertainment 4. Cell phones are quickly turning into portable entertainment platforms. Mobile phone services offer downloadable Digital games and ringtones. Users with broadband services can down load on demand movie clips, news clips and weather reports. Film companies are starting to produce short films explicitly designed to Film play on mobile phones. play e.g. MobiTV features live TV programs. MOBILE COMMERCE (M-COMMERCE) MOBILE ACCESSING INFORMATION FROM THE WIRELESS WEB Although Cell phones, PDAs and other handheld mobile devices are able to access Web at anytime from anyplace, the amount of information that they can actually handle is very limited. can Until 3G Broadband services comes into widespread use, the hand held mobile devices will not be able to transmit or receive large amount of data; since the amount of information displayed on the screen is limited. Some Web sites have been specially designed for m-commerce....
View Full Document
This note was uploaded on 08/12/2011 for the course ITEC 421 taught by Professor Huseyingursev during the Spring '11 term at Eastern Mediterranean University.