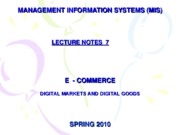 This is the end of the preview.
Sign up
to access the rest of the document.
Unformatted text preview: an traditional focus groups and surveys. ELECTRONIC COMMERCE (E-commerce) ELECTRONIC CUSTOMER SELF SERVICE Many companies use their Web sites and e-mail to answer customer questions or to Many provide customers with product information, reducing the need for human Customerprovide support experts. For example: American Northwest, THY and many other Airlines have created Web For sites where customers can review flight times, seating chars, Airport logistics; check frequent-flayer miles; and purchase tickets online. New Software products are even integrating the Web with customer call centres, where New customer service problems have been traditionally handled over the telephone. customer A Call Centre is an organizational department responsible for handling customer service Call issues by telephone and other channels. Example: A visitor to the Lands' End Web site can request a phone call from customer service by entering his/her telephone number. A Call Centre System directs a customer Service representative to place a voice telephone call to the user's phone. telephone ELECTRONIC COMMERCE (E-commerce) ELECTRONIC B2B ELRCTRONIC COMMERCE: New Efficiencies...
View Full Document
This note was uploaded on 08/12/2011 for the course ITEC 421 taught by Professor Huseyingursev during the Spring '11 term at Eastern Mediterranean University.