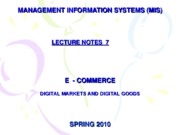 This is the end of the preview.
Sign up
to access the rest of the document.
Unformatted text preview: ternet. e.g. Yahoo! provides, capabilities for locating information on the Internet along with news, sports, weather, telephone directors, maps, games, shopping, email, chat, discussion boards, and links to other sites. INTERNET BUSINESS MODELS 3. PORTALS BUSINESS MODEL Specialized Portals help users with specific interests. e.g. StarMedia is a Portal customized for Latin American Internet users, and the Portal Sina.com is customized for Chinese users. Yahoo! And other Portals and Web content sites often combine content Yahoo! and applications from many different sources and service providers. and 4. OTHER BUSINESS MODELS 4. Other Internet Business Models use Syndicate as well , providing additional value. For example, E-Trade, the discount Web trading site, purchase most of its content from outside sources such as Reuters (news) and BigCharts.com . from Online Syndicators, who aggregate content or applications from multiple sources, Syndicators package them for distribution, and resell them to third-party Web sites. Online Syn...
View Full Document
This note was uploaded on 08/12/2011 for the course ITEC 421 taught by Professor Huseyingursev during the Spring '11 term at Eastern Mediterranean University.