This preview shows page 1. Sign up to view the full content.
View Full Document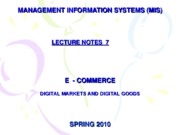 This is the end of the preview.
Sign up
to access the rest of the document.
Unformatted text preview: Payments. Some of these services such as CheckFree consolidate Subscribers CheckFree bills from various sources so that they can all be paid at one time. DIGITAL PAYMENT SYSTEMS FOR M-COMMERCE DIGITAL With a Wi-Fi connection, all types of Electronic Payment Systems can be used, The fact that connection is with wireless should have no impact . Many M-commerce transactions, however, are small, frequent purchases for items such as soft drinks, newspapers or mobile games that require special Micropayment Systems. Micropayment Systems are working well in Europe and Asia, where Micropayment Mobile Operators and Internet Service Providers handle small payments by adding them up and presenting them on a single bill, such as on the mobile telephone bill. mobile e.g. eBay's PayPall , Mobile Text2Buy Service allows consumers to send payments to PayPall Mobile Accounts, purchase items from selected retailers, or denote money to some charities by entering a short text code into a cell phone. . DIGITAL PAYMENT SYSTEMS FOR M-COMMERCE DIGITAL • NTTDoCoMo in Japan offers a cell phone with a Stored Value Payment System for purchases in designated Stores, Restaurants and vending machines. NTTDoCoMo also offers another cell phone with an embedded Credit Card payment system. Virgin Mobile Phone in England offers a purchase service of Virgin Cola by dialling a number posted on the Virgin vending machine. The cost of the drink is charged on the mobile phone bill. The DIGITAL PAYMENT SYSTEMS FOR M-COMMERCE DIGITAL Motorola, MasterCard, and Visa are developing Mobile Wallet Services (Digital Wallet Payment Systems) . Micropayment Service Providers run their own unique Payment systems. A common secure platform for Wireless M-commerce Payments would help M-commerce to spread rapidly....
View Full Document
This note was uploaded on 08/12/2011 for the course ITEC 421 taught by Professor Huseyingursev during the Spring '11 term at Eastern Mediterranean University.