This preview shows page 1. Sign up to view the full content.
View Full Document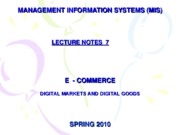 This is the end of the preview.
Sign up
to access the rest of the document.
Unformatted text preview: e differences between Digital Markets and Traditional Table Markets. Markets. KEY CONCEPTS IN E-COMMERCE; DIGITAL MARKETS AND DIGITAL GOODS KEY DIGITAL GOODS Digital Gods are goods that can be delivered over a digital network such as music, tracks, Digital video, software, newspapers, magazines and books. Digital Goods can be expressed, stored, delivered, and sold as purely digital products. Digital Currently, most of these products are sold as physical goods, for example, CDs DVDs Currently, and hard copy bocks. But the Internet offers the possibility of delivering all these products on demand as digital products. products In general, the marginal cost of producing another unit of digital good is about zero. In (it costs nothing to make another copy of music). Costs of delivering over the Internet are very low; marketing costs remain the same; and pricing can be highly variable. (e.g. On the Internet , the merchant can change prices as often as desired because of low menu costs.) menu The impact of Internet on the market of these kind of digital goods is nothing The sh...
View Full Document
This note was uploaded on 08/12/2011 for the course ITEC 421 taught by Professor Huseyingursev during the Spring '11 term at Eastern Mediterranean University.