This preview shows page 1. Sign up to view the full content.
View Full Document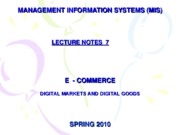 This is the end of the preview.
Sign up
to access the rest of the document.
Unformatted text preview: cations. More industries will be transformed by e-commerce, including travel reservations, music and entertainment, news, software, education, and finance. and E - COMMERCE: DIGITAL MARKET AND DIGITAL GOODS COMMERCE: WHAT IS E-COMMERCE E-Commerce is about digitally enabled commercial transactions E-Commerce that occur over the Internet and the Web between and among organizations and individuals. organizations Commercial transactions involve the exchange of value across Commercial organizational or individual boundaries in return for products and services. and In a nut shell, E-Commerce refer to the use of the Internet and In the Web to conduct business. the E - COMMERCE: DIGITAL MARKET AND DIGITAL GOODS COMMERCE: WHY E-COMMERCE IS DIFFERENT The Internet and the e-commerce technologies are much more rich and The powerful than the previous technology revolutions. Let's explore the following unique Features of e-commerce Technology. Let's UBIQUITY UBIQUITY Internet / Web technology (e-commerce) is available everywhere; At work, at home, at car, and elsewhere via mobile device...
View Full Document
This note was uploaded on 08/12/2011 for the course ITEC 421 taught by Professor Huseyingursev during the Spring '11 term at Eastern Mediterranean University.