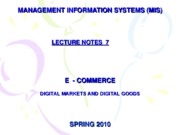 This is the end of the preview.
Sign up
to access the rest of the document.
Unformatted text preview: ounts of less than $10, such as downloads of individual articles for music clips, which would be too small for Credit Card payments e.g. QPass enables Wireless customers to charge ringtones, games and other digital products and services to their monthly Phone bills. ELECTRONIC COMMERCE PAYMENT SYSTEMS ELECTRONIC 4. STORED VALUE PAYMENT SYSTEMS 4. Enables customers to make instant online payments to merchants and other individuals, based on pre-stored Value in a Digital Account. (e.g. eCount) (e.g. Online Value Systems rely on the value stored in a Consumer's Bank, Checking , or Credit Card account, and some of these Systems require the use of Digital Wallet. Smart Cards are a type of Stored Value System used for Micropayments. Smart Smart Card can serve as an ''Electronic Purse'' in place of cash. Smart 'Electronic e.g. The Mondex Smart Card contains electronic cash and can be used to transfer funds to Merchants in physical storefronts and to Merchants on the Internet. Mondex Smart Card requires a special card reader whenever the card needs to transfer cash to either an online or offline Merchant. ELEC...
View Full Document
This note was uploaded on 08/12/2011 for the course ITEC 421 taught by Professor Huseyingursev during the Spring '11 term at Eastern Mediterranean University.