This preview shows page 1. Sign up to view the full content.
View Full Document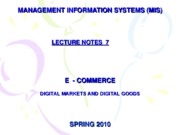 This is the end of the preview.
Sign up
to access the rest of the document.
Unformatted text preview: They feature Web pages with very few graphics and just enough information (that users are most likely to need) to fit on a small mobile handheld screen. are e.g. Special Wireless Portals (Mobile Portals) such as MSN Mobile Portal, e.g. MSN provides access to news, sports, local traffic reports, restaurant listings. Yellow pages, and Stock market reports, as well as managing e-mail messages and instant messaging. MOBILE COMMERCE (M-COMMERCE) CHALLENGES MOBILE The number of Wi-Fi hotspots for Wireless Internet access has been The mushrooming in many countries because the technology combines high speed Internet access with a measure of flexibility and mobility. Internet However, rollout of mobile m-commerce services, has proved to be more However, problematic since: problematic a) Keyboards and screens on cell phones are still tiny and awkward to use; a) b) The data transfer rate on second generation 2G cellular network are very slow compared to dial-up high speed Internet connections for PCs. Each second of waiting for download costs money to customers; c) Most Internet-enabled phones have limited memory and power...
View Full Document
This note was uploaded on 08/12/2011 for the course ITEC 421 taught by Professor Huseyingursev during the Spring '11 term at Eastern Mediterranean University.