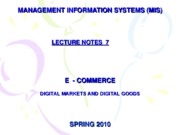 This is the end of the preview.
Sign up
to access the rest of the document.
Unformatted text preview: T, ENTERTEINMENT, AND SERVICES MODEL The ability to deliver digital goods and digital content over the Web has created new The alternatives to traditional print and broadcast media. alternatives There are Web sites for digital versions of print publications, such as New York Times, There or Milliyet .com Newspaper publisher. or Some of the most popular Web sites deliver entertainment in digital form. Online games attract huge numbers of players. For example: Blizzard Entertainment's online roleplaying game World of Warcraft earned 1 Billion Dollars in 2006 alone, from 7 million players worldwide. You can listen to some of your favourite radio channels such as the BBC or Classic Rock on the web You as well as many independent channels. Because the radio signal is relceived over the Internet, it is possible to access stations from anywhere in the world. possible Service like Yahoo!'s LAUNCHcast and RealNetworks' Rapsody even put together individualized Service radio channels for listeners. radio INTERNET BUSINESS...
View Full Document
This note was uploaded on 08/12/2011 for the course ITEC 421 taught by Professor Huseyingursev during the Spring '11 term at Eastern Mediterranean University.