This preview shows page 1. Sign up to view the full content.
View Full Document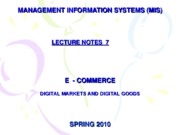 This is the end of the preview.
Sign up
to access the rest of the document.
Unformatted text preview: iewed on a portable device are Video called Vcasts. called Podcasting enables independent producers to self-publish their own audio Podcasting content and gives broadcast media a new distribution method. content • Podcast also have internal uses for businesses, who want to Podcast distribute information in audio form to their employees. distribute • Internet security firm SonicWall uses Podcasts to demonstrate Internet its expertise to customers and to provide new product information to its Resellers. information INTERNET BUSINESS MODELS INTERNET 3. PORTALS BUSINESS MODEL The Web's information resources are so vast and rich that Portals have emerged as an Internet Business Model. Portals help individuals and Internet Portals organizations locate information more efficiently and also seek to become destination sites by aggregating content on their sites. As an e-commerce Business Model, a Portal is a ''Supersite'' that provides a As comprehensive entry point for a huge array of resources and services on the In...
View Full Document
This note was uploaded on 08/12/2011 for the course ITEC 421 taught by Professor Huseyingursev during the Spring '11 term at Eastern Mediterranean University.