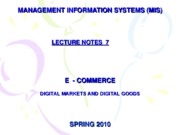 This is the end of the preview.
Sign up
to access the rest of the document.
Unformatted text preview: Credit card to deposit money, for the amount of the purchase, in the Seller's Bank account. ELECTRONIC COMMERCE PAYMENT SYSTEMS ELECTRONIC 2. DIGITAL WALLETS A Digital Wallet securely stores Credit Card and the owner identification information such as Shopper's name, Credit Card number, Shipping information i.e. Delivery address, Date and specific instruction etc… automatically when invoked to complete the purchase Digital Wallets make paying for purchases over the Web more efficient by eliminating the need for Shoppers to enter their address and Credit Card details repeatedly each time they buy something. e.g. Q*Wallet and Google Toolbar Autofill are examples of Digital Wallet. Wallet. ELECTRONIC COMMERCE PAYMENT SYSTEMS ELECTRONIC 3. ACCUMULATED BALANCE DIGITAL PAYMENT SYSTEMS Enable users to make Micropayments, when purchases on the Micropayments when Web. It accumulates a Debit balance on users Credit card or Telephone bills that must be paid periodically. Micropayment Systems have been developed for purchase am...
View Full Document
This note was uploaded on 08/12/2011 for the course ITEC 421 taught by Professor Huseyingursev during the Spring '11 term at Eastern Mediterranean University.