This preview shows page 1. Sign up to view the full content.
View Full Document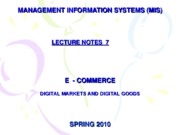 This is the end of the preview.
Sign up
to access the rest of the document.
Unformatted text preview: abilities such as e-Bay. • E-Bay is an online auction forum that uses e-mail and other interactive features of the Web. • e-bay Systems accept bids entered on the internet, evaluates the bids, and notifies the highest bidder. • e-Bay collects a small commission on each listing and sales. e-Bay • e-Bay has become so popular that its site serves as a huge trading platform for other companies, hosting hundreds of thousands of ''Virtual Storefronts''. . INTERNET BUSINESS MODELS 1. COMMUNICATION AND COMMUNITY MODEL Business-to-business auctions'' have also emerged. Example , GoIndustry features Web-based auction services for Business-to- Business sales of industrial equipment and machinery. The Internet has created online communities, where people with similar interests exchange ideas from many different locations. Some of the Virtual Communities such as i-Village.com are providing foundation for new businesses. i-Village.com provides an online Community for woman sharing similar interests, such as diet and fitness, pregnancy, parenting, home and garden, and food. Members participate in online di...
View Full Document
This note was uploaded on 08/12/2011 for the course ITEC 421 taught by Professor Huseyingursev during the Spring '11 term at Eastern Mediterranean University.