This preview shows page 1. Sign up to view the full content.
View Full Document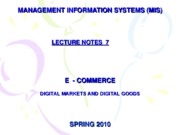 This is the end of the preview.
Sign up
to access the rest of the document.
Unformatted text preview: usiness-to-Consumer • Business-to-Business (B2B) Business-to-Business • Consumer-to-Consumer (C2C) Consumer-to-Consumer Another way of classifying is in terms of the participants' physical connection to Another the Web. • e-commerce over Wired networks over • e-commerce over Wireless network (Mobile Commerce e-commerc over ELECTRONIC COMMERCE (E-commerce) ELECTRONIC Business-to-Consumer Electronic Commerce (B2C) B2C involves retailing products and services to individual shoppers. B2C e.g. Amazon.com, which sells books to consumers is an example of B2C e-commerce. e.g. Business-to-Business Electronic Commerce (B2B) B2B involves sales of goods and services among businesses. e.g. ChemConnect's Web site for buying and selling natural gas liquids, refined and e.g. intermediate fuels, chemicals, and plastic is an example of B2B e-commerce. Consumer-to-Consumer Electronic Commerce (C2C) C2C involves Consumers selling directly to consumers. e.g. e-Bay enables people to sell their goods to othe...
View Full Document
This note was uploaded on 08/12/2011 for the course ITEC 421 taught by Professor Huseyingursev during the Spring '11 term at Eastern Mediterranean University.