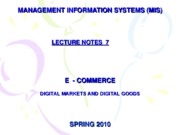 This is the end of the preview.
Sign up
to access the rest of the document.
Unformatted text preview: ess Advertising 3. Wireless 4. Games and Entertainment 4. Games MOBILE COMMERCE (M-COMMERCE) MOBILE 1. Content and Location-Based Services Searching for Services, such as Local Business, Local movie shows, Local restaurants, Hotels, Train schedules, Airline flights, weather forecasts by accessing Wireless Web services. e.g. Go2 Mobile Directory users NTT DoCoMo Wireless Services in Japan NTT 2. Banking and Financial Services Wiireless alerts about changes in Account information such as balance on reless Mobile phones that support text messaging or Web access operated by many Banks. Use of Mobile telephones to check account balance, transfer funds between bank accounts, and paying bill services provided by many Banks. MOBILE COMMERCE (M-COMMERCE) MOBILE 3. Wireless Advertising Some major Wireless Services Providers are starting to include advertising on their sites. e.g. When consumers use Go2 Mobile Directory to search for local restaurants or movie theatres, Yahoo-sponsored advertisers appear in the list of search r...
View Full Document
This note was uploaded on 08/12/2011 for the course ITEC 421 taught by Professor Huseyingursev during the Spring '11 term at Eastern Mediterranean University.