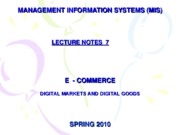 This is the end of the preview.
Sign up
to access the rest of the document.
Unformatted text preview: riced as high as 135% of its original cost to manufacturer. have KEY CONCEPTS IN E-COMMERCE; DIGITAL MARKETS AND DIGITAL GOODS KEY Figure below illustrates how much savings result from eliminating each of these layers Figure (intermediaries) in the Distribution process. (intermediaries) By selling directly to consumers, or reducing the number of intermediaries, companies By are able to raise profits while charging lower prices. The removal of organizations or business process layers responsible for intermediately steps in a value chain is called ''Disintermediation''. The typical distribution channel has several intermediary layers, each of which adds to The the final cost of a product, such as a sweater. Removing layers lowers the final cost to the consumer. the KEY CONCEPTS IN E-COMMERCE; DIGITAL MARKETS AND DIGITAL GOODS KEY Airlines and Hotels operating their own Reservation sites online, earn more revenue Airlines from Ticket selling because they have eliminated Travel Agents as intermediaries. from Table below summaries th...
View Full Document
This note was uploaded on 08/12/2011 for the course ITEC 421 taught by Professor Huseyingursev during the Spring '11 term at Eastern Mediterranean University.