This preview shows page 1. Sign up to view the full content.
View Full Document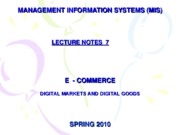 This is the end of the preview.
Sign up
to access the rest of the document.
Unformatted text preview: velop Also these information enables firms to create unique personalized Web pages that Also display content or Ads for products or services of special interest to each user, thus, improving the customer's experience and creating additional value . improving Figure below shows Web Site Personalization ELECTRONIC COMMERCE (E-commerce) ELECTRONIC INTERACTIVE MARKETING AND PERSONALIZATION INTERACTIVE By using Personalization technology to modify the Web pages presented to each customer, achieve By the benefits of using individual salespeople at dramatically lower costs. the One technique for Web Personalization is ''Collaborative Filtering", which compares ", information gathered about a specific user's behaviour at a Web site wıth other customers with similar interests to predict what the user would like to see next. The Software then makes similar recommendations to users based on their assumed interests. recommendations example: Amazon.com use Collaborative Filtering Software to prepare personalized book example: recommendations: ''Customers who bought this book also bought ……" . These recommendations are made jus...
View Full Document
This note was uploaded on 08/12/2011 for the course ITEC 421 taught by Professor Huseyingursev during the Spring '11 term at Eastern Mediterranean University.