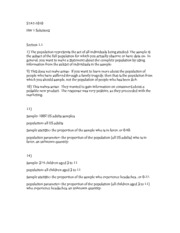 This is the end of the preview.
Sign up
to access the rest of the document.
Unformatted text preview: but this looks like an experiment because the researcher actively assigned individuals to treatment groups (usually, randomization is mentioned in the set ­up of an experiment). VOI: level of motion sickness, treatment group. 13) Observational study. VOI: level of mental skills, type of twin. 14) Observational study. VOI: heart disease, vitamin B group (note: all individuals had high homocysteine level, so that is actually a controlled variable). 20) This is a meta ­analysis which combines 100's of observational studies. VOI: cancer status, presence of power lines. 23) The researchers want to see if...
View Full Document
This note was uploaded on 12/13/2013 for the course STAT 1010 taught by Professor Decook during the Spring '13 term at University of Iowa.