This preview shows page 1. Sign up to view the full content.
View Full Document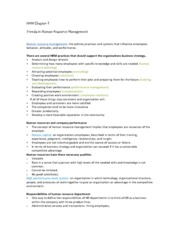 This is the end of the preview.
Sign up
to access the rest of the document.
Unformatted text preview: ledge is not common. 3. Cannot be imitated. 4. No good substitutes. High performance work system- an organization in which technology, organizational structure, people, and processes all work together to give an organization an advantage in the competitive environment. Responsibilities of human resource department • One way to define the responsibilities of HR departments is to think of HR as a business within the company with three product lines. 1. Administrative services and transactions- hiring employees, 2. 3. Business partner services- developing HR systems that help the organization meet its goals for attracting, keeping, and developing people with the skills it needs. Strategic partner- contributing to the company strategy through an understanding...
View Full Document
This note was uploaded on 12/18/2013 for the course MGTS 3801 taught by Professor Davidson during the Spring '08 term at University of Minnesota Duluth.