This preview shows page 1. Sign up to view the full content.
View Full Document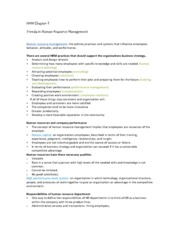 This is the end of the preview.
Sign up
to access the rest of the document.
Unformatted text preview: (specifying the tasks and outcomes of a job that contribute to the organizations success.) Planning and administering pay and benefits • Important role in motivating employees • Especially true when linked to the individuals or groups achievements • Organizations need systems to keep track of benefits that includes extensive record keeping and reporting to management and employees Maintaining positive employee relations • When unions are involved employee relations entail additional responsibilities. Establishing and administering personnel policies • Develop policies so procedures can be consistently followed. • They promote fair decision making and other objectives such as workplace safety and customer service Ensuring compliance with...
View Full Document
This note was uploaded on 12/18/2013 for the course MGTS 3801 taught by Professor Davidson during the Spring '08 term at University of Minnesota Duluth.