This preview shows page 1. Sign up to view the full content.
View Full Document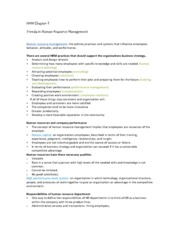 This is the end of the preview.
Sign up
to access the rest of the document.
Unformatted text preview: employees. Ways to exercise social responsibility.. • Minimizing enviromntal impact • Providing high quality products • Measuring how well the company is meeting stakeholders needs Skills of HRM professionals 1. Credible activists- means being so well respected in the organization that you can influence the positions taken by managers. 2. Cultural steward- involves the understanding the organizations culture and helping to build and strengthen or change that culture by identifying and expressing its values through words and actions. 3. Talent manager/ organizational designer- knows the ways that people join the organization and move to different positions within it. 4. Strategy architect- requires awareness of business trends and an understanding of how they might affect the business as well as the...
View Full Document
This note was uploaded on 12/18/2013 for the course MGTS 3801 taught by Professor Davidson during the Spring '08 term at University of Minnesota Duluth.