This preview shows page 1. Sign up to view the full content.
View Full Document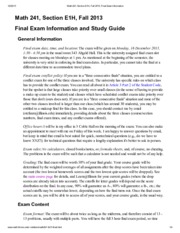 This is the end of the preview.
Sign up
to access the rest of the document.
Unformatted text preview: in the usual way. Exam Content Ex am f ormat : The exam will be about twice as long as the midterms, and therefore consist of 13 15 problems, usually with multiple parts. You will have the full 3 hour final exam period, so time www.math.illinois.edu/~ stefanm/math241- fa13- final.html 1/4 12/22/13 M ath 241, Section E1H, Fall 2013, Final Exam Infor mation should not be an issue. The final exam problems will be comparable in format, level, and difficulty to the problems on the midterms. (I consider midterm and final exam problems more or less interchangeable; in fact, one source of problems for the final will be problems that I had considered for a midterm, but which didn't make the final cut.) So again the majority of the problems will be comparable to an average homework problem. There may be a problem or two requesting a stepby- step derivation of a formula or result using appropriate properties and rules, as illustrated in class and in some of the homew...
View Full Document
This note was uploaded on 12/27/2013 for the course MATH 241 taught by Professor Kim during the Fall '08 term at University of Illinois, Urbana Champaign.