This preview shows page 1. Sign up to view the full content.
View Full Document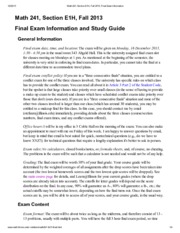 This is the end of the preview.
Sign up
to access the rest of the document.
Unformatted text preview: es not). If you are in a "three consecutive finals" situation and none of the other two classes involved is larger than our class (which has around 30 students), you may be entitled to a makeup final for this class. In this case, you should contact me by email (stefanm@illinois.edu) immediately, providing details about the three classes (course/section numbers, final exam times, and any conflict exams offered). Of f ice hours: I will be in my office in 3 Coble Hall on the morning of the exam. You can also make an appointment to meet with me on Friday of this week. I am happy to answer questions by email, but keep in mind that email is best suited for quick, nontechnical questions (e.g., do we have to know XYZ?); for technical questions that require a lengthy explanation it's better to ask in person. Ex am rules: No calculat ors, closed books/notes, no f ormula sheet s, and, of co...
View Full Document
This note was uploaded on 12/27/2013 for the course MATH 241 taught by Professor Kim during the Fall '08 term at University of Illinois, Urbana Champaign.