This preview shows page 1. Sign up to view the full content.
View Full Document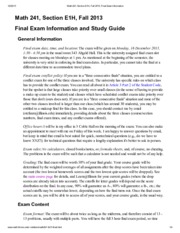 This is the end of the preview.
Sign up
to access the rest of the document.
Unformatted text preview: y of the concepts and techniques. Keep in mind, however, that these questions do not cover every topic, so you should not rely on these questions alone. To be fully prepared for the exam, you should still go through the entire material, section by section, review your class notes, and review/redo the homework problems. See the above midterm checklists for notes on Calculus I and II skills, computations, sample exams, exam day advice, and miscellaneous hints and comments. Post exam 3 syllabus and checklist Here is a detailed syllabus and a section- by- section checklist of topics, concepts, formulas, and techniques that you should be familiar with, as well as typical computational tasks. Once you feel comfortable with the basic concepts and know all formulas, try yourself at frequent, but routine types of problems. For each of these types of problems you can find examples (usually more than one) in the book and among...
View Full Document
This note was uploaded on 12/27/2013 for the course MATH 241 taught by Professor Kim during the Fall '08 term at University of Illinois, Urbana Champaign.