This preview shows page 1. Sign up to view the full content.
View Full Document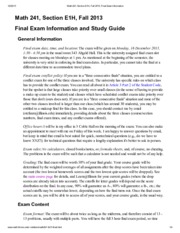 This is the end of the preview.
Sign up
to access the rest of the document.
Unformatted text preview: the assigned homework problems. Refer back to these examples if you are unsure how to do a particular problem. Many of the exam problems will be of one of these standard types. 16.4: Gre e n's The ore m Green's Theorem for simply connected regions Green's Theorem for regions with "holes" www.math.illinois.edu/~ stefanm/math241- fa13- final.html 2/4 12/22/13 M ath 241, Section E1H, Fall 2013, Final Exam Infor mation Computing areas via Green's Theorem Summary: Green's Theorem (from a previous semester) 16.5: Div e rge nce , Gradie nt, and Curl Divergence (div), gradient (grad), and curl of a vector field Identities for curl(grad(f))) and div(curl(F)) Curl test for a conservative field (3D version of "mixed partials" test) Connected regions and simply connected regions Vector forms of Green's Theorem: tangential version (involving curl)...
View Full Document
This note was uploaded on 12/27/2013 for the course MATH 241 taught by Professor Kim during the Fall '08 term at University of Illinois, Urbana Champaign.