This preview shows page 1. Sign up to view the full content.
View Full Document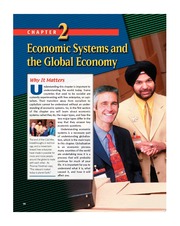 This is the end of the preview.
Sign up
to access the rest of the document.
Unformatted text preview: With globalization, however, the world is moving from hundreds of national economies toward one large world economy. In a world of one, it does not make sense to speak of different economic systems. It makes sense to speak of "the" economic system for that one world economy. And, the 42 Chapter 2 Economic Systems and the Global Economy economic system that best describes what is happening in the world economy is free enterprise or capitalism. QUESTION: What specifically is the dif- ference between a national economy and a global economy? ANSWER: Think of an invisible string as connecting you and everyone you have an economic relationship with. If you buy something from someone, a string connects the two of you; if you work for someone, a string connects you. Now, perhaps the best way to think of a national economy is to think of strings only linking those people who reside in the same country. In a world or global economy, however, strings link individuals with people in their own country and in other countries too. In other words, their economic relationships extend beyond the nation's borders. In the past, a few strings extended outside of country borders, but only a few, and for a long time the strings only went to certain countries. With globalization, more and more strings, a seemingly unlimited number of strings, are being connected across borders. And, these strings are being connected between people in more and more countries. 02 (030-053) EMC Chap 02 11/17/05 4:13 PM Page 43 Movement Toward Globalization How did we come to live in a global economy? Did someone push a button years ago and start the process of globalization? No, things don't happen that way. Early History Globalization did not just occur on the world stage two decades ago. The world has gone through different globalization periods. For example, during the period from the mid-1800s to the late 1920s, globalization was occurring. Some people today refer to it as the First Era of globalization. In some ways, that world was a freer world when it came to the movement of people than the world today, as evidenced by the fact that many people moved from country to country without a passport, which was not required. This early era of globalization was largely ended by the two world wars (World War I and World War II) and the Great Depression. Even though both the Great Depression and both world wars were over by 1945, globalization did not start anew. The Cold War essentially divided the world into different camps (free vs. unfree, capitalist vs. communist), which led to relatively high political and economic barriers. The visible symbol of these barriers—the Berlin Wall—separated not only East from West Germany but one group of countries living under one political and economic system from another group of countries living under a different political and economic system. Recent Causes Several factors have led to the more recent period of globalization. Let's look at a few of the most frequently mentioned factors. The End of the...
View Full Document
This document was uploaded on 01/16/2014.