This preview shows page 1. Sign up to view the full content.
View Full Document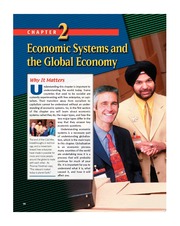 This is the end of the preview.
Sign up
to access the rest of the document.
Unformatted text preview: nomic doors. Just as the government of one country can close the door on another country, it can open that door too. It can open that door a Policy changes in Vietnam have opened the door to more free enterprise. Nike employs close to 50,000 Vietnamese workers and exports over 22 million pairs of shoes annually. little, more than a little, or a lot. In recent decades, governments of many countries have been opening their doors to other countries. China has opened its door; India has opened its door; Russia has opened its door. See Exhibit 2-3 for some selected facts showing the recent trend toward globalization. EXHIBIT 2-3 Here are some "Then" and "Now" facts that indicate a trend toward globalization. Globalization Facts Topic Topic Then Then Now Now U.S. tariff rates tariff rates (tax imported goods) (tax on imported goods) 40% in 1946 in 2.6% in 2005 2.6% in 2005 Foreign exchange Foreign exchange trading trading (buying and selling of (buying and selling of foreign currencies) foreign currencies) $820 million $820 million in 1998 in 1998 $1.5 2004 $1.5 trillion in 2004 Foreign direct Foreign direct investment investment (companies from one (companies from one country investing in investing in companies from companies from another country) another country) billion $23 billion in in 1975 billion $644 billion in 1997 U.S. ownership ownership of foreign stocks foreign stocks portfolios 2% of portfolios 1980 in 1980 14% portfolios 14% of portfolios 2005 in 2005 Membership in Membership World Trade World Trade Organization (WTO) Organization 18 countries 18 countries in 1948 in 1948 148 countries in 2005 148 countries in 2005 Americans working working in the U.S. for U.S. for foreign companies companies 4.9 million 4.9 million 1991 in 1991 6.5 million 2001 6.5 million in 2001 Section 2 Globalization 45 02 (030-053) EMC Chap 02 11/17/05 4:14 PM Page 46 The Costs and Benefits of Globalization Some people believe that globalization is, in general, a good thing and that its benefits outweigh its costs. Other people take the opposite view—that the costs of globalization are greater than the benefits. Let's look at what those who favor globalization say are its benefits, and what those who oppose it say are its costs. As you read, you will probably begin to form your own opinion. Benefits Following are some of the major benefits of globalization. Trade To say that the world is undergoing the process of globalization is really no more than saying that people are trading with more EXH I BIT 2-4 Less Globalized 60 Globalization and Life Expectancy 50 Globalization Index Rank 40 30 20 Italy G Greece Chile South Korea Panama Sweden Australia 0 Canada France Switzerland Austria r N th l ds Netherland 10 d Norway w Germany New G Zealand Finland n Singapore United Ui Kingdom United States a 20 Portugal Denmark Ireland n Slovenia o Argentina Czech Republic b Croatia Mexico Slovak Republic i Poland o Saudi Tunisia d Sri Lanka n Ab Arabia bi l Hungary Malaysia China Romania o Colombia o Ve Venezuela Iran 50 Senegal Bangladesh South South Kenya K A Africa 40 Nigeria a Botswana s U Uganda 60 Lower Life Expectancy Philippines e Turkey Peru T Thailand Egypt g Ukraine kn Brazil Morocco o Indonesia a R ssi Russian d India Pakistan Federation 30 Longer Life Expectancy Life Expectancy Rank Japan Spain a Israel e More Globalized 10 The Globalization Ind...
View Full Document
This document was uploaded on 01/16/2014.