This preview shows page 1. Sign up to view the full content.
View Full Document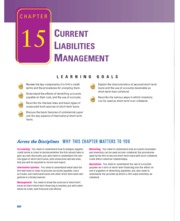 This is the end of the preview.
Sign up
to access the rest of the document.
Unformatted text preview: ntense pressures on it to become profitable. Amazon has changed strategy, emphasizing profitability over growth. In fact, during 2001 it reported its first profit—1¢ per share. CFO Warren Jensen, LG3 Current Liabilities Management describing the critical role management of working capital plays in the quest for profits, was quoted in CFO magazine as saying, "This isn't about trying to string our vendors out." Amazon has negative net working capital (that is, its current liabilities exceed current assets) but has chosen to employ just-in-time inventory delivery from book publishers—not delayed payments—to reduce the need for short-term bank loans. One advantage of Amazon's payables policy is that suppliers would be likely to work with Amazon should its cash position temporarily drop below that needed to cover payables. In economic downturns, companies face even greater temptation to delay payments, and many do so. Stephen Payne, of REL Consultancy Group, warns that this unethical practice "can bite you in the rear end" as suppliers detect it and simply jack up prices to counter the effect. The buyer's average payment period represents its suppliers' average collection periods, after all. Stretching payables is unethical for two reasons. First, the buyer is violating the terms of its trade credit agreement. Second, the buyer is in effect doing additional borrowing from its suppliers without their knowledge or authorization. "Everybody's doing it" is never a valid excuse for trying to add to shareholder wealth through such blatantly unethical behavior. Shareholder wealth maximization is once again seen to be subject to ethical constraints. 15.2 Unsecured Sources of Short-Term Loans Businesses obtain unsecured short-term loans from two major sources, banks and commercial paper. Unlike the spontaneous sources of unsecured short-term financing, bank loans and commercial paper are negotiated and result from actions taken by the firm's financial manager. Bank loans are more popular, because they are availa...
View Full Document
This document was uploaded on 01/19/2014.