This preview shows page 1. Sign up to view the full content.
View Full Document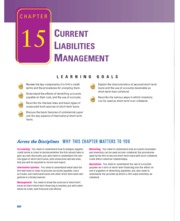 This is the end of the preview.
Sign up
to access the rest of the document.
Unformatted text preview: ennett designs, imports, and distributes women and children's footwear and also markets its footwear through privatelabel programs with many key customers. Founded in 1961 as Bennett Importing, the company merged in 1998 with two other footwear companies, positioning the combined enterprise to serve a wide range of footwear markets. The company imports shoes from Italy, Brazil, China, and Portugal. Today Bennett's customers include value-oriented retailers such as Payless ShoeSource and Wal-Mart, as well as major department stores such as Nordstrom, Filene's, and Macy. Although the merger created economies of scale and better market penetration, it also brought Bennett a complex financial structure with much debt. Bennett also needed funds to "grow its business" quickly in three areas: to take advantage of the increasing popularity of the Franco Sarto brand, to branch out into men's shoes and accessories, and to expand its privatelabel products for mass merchandisers. Bennett and CIT Commercial Services, a leading lender to apparel and footwear companies, worked together to develop a sound program to restructure the company's debt, provide growth capital, and improve liquidity. CIT's industry knowledge and its experience lending to similar companies helped it arrive at a fair value for the inventory and accounts receivable that would serve as loan collateral (security). CIT provided Bennett with a $20-million secured revolving line of credit and a $6-million, 3-year term loan. With these short- and intermediate-term credit facilities, Bennett Footwear was able to refinance a portion of its outstanding debt and pay off most of its subordinated notes while continuing to expand its Franco Sarto lines. Short-term bank financing is just one current liabilities management strategy that firms use to fund the buildup of inventory and accounts receivable until they can turn them back into cash. Other methods include spontaneous sources of short-term financing—accounts payable and accr...
View Full Document
This document was uploaded on 01/19/2014.