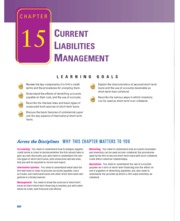 This is the end of the preview.
Sign up
to access the rest of the document.
Unformatted text preview: ainst actual borrowings, a compensating balance of 10% or so against the unused portion of the commitment. CHAPTER 15 FOCUS ON PRACTICE GM Keeps America Rolling After the attacks of September 11, 2001, further stalled consumer spending, which was already down during the recession, General Motors (GM) decided to jump-start auto sales. On September 19, America's largest auto manufacturer offered car buyers 0 percent financing for up to 5 years on all 2002-model passenger cars, pickups, and sport utility vehicles. Its "Keep America Rolling" campaign launched a major effort to gain significant market share, and it worked. Consumers flocked to GM dealer showrooms and gave the car manufacturer its third-best sales year ever—and its first increase in market share since 1988. Higher demand also kept GM's plants operating and its workers employed. The promotion was so successful that GM extended it through January 2, 2002, although it kept 0 percent only for 3-year loans, which were less popular, raised interest rates for the more popular 4- and 5-year loans, and excluded Chevy Corvettes and Cadillacs from the extended plan. But the increased sales came at a cost to GM and to the other car manufacturers that were forced to follow its lead. GM's more lenient credit-per-car-basis receivables dropped without the financing charges. The free financing amounted to incentives averaging $2,600 per vehicle— hundreds of millions of dollars that GM needed to cover the difference between what its finance company paid to borrow (about 5 percent) and the 0 percent that consumers received. Profits also dropped, because GM earned only about $360 for each vehicle it sold in North America. Auto industry analysts also questioned the long-term effect on GM, concerned that consumers simply moved up their new-car purchases by a few months so that the program merely Current Liabilities Management 647 In Practice cannibalized future sales rather than representing any real gain. The increased risk and cloudy profit picture were among the factors that, in mid-Octo...
View Full Document
This document was uploaded on 01/19/2014.