This preview shows page 1. Sign up to view the full content.
View Full Document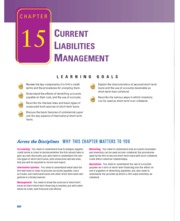 This is the end of the preview.
Sign up
to access the rest of the document.
Unformatted text preview: fixed or floating rate. Often must maintain 10% to 20% compensating balance and clean up the line annually. Prime plus 0% to 4% risk premium—fixed or floating rate. Free. No stated cost except when a cash discount is offered for early payment. Cost or conditions (continued) An unsecured short-term promissory note issued by the most financially sound firms. A line-of-credit agreement under which the availability of funds is guaranteed. Often for a period greater than 1 year. A prearranged borrowing limit under which funds, if available, will be lent to allow the borrower to meet seasonal needs. A single-payment loan used to meet a funds shortage expected to last only a short period of time. Result because wages (employees) and taxes (government) are paid at discrete points in time after the service has been rendered. Hard to manipulate this source of financing. Credit extended on open account for 0 to 120 days. The largest source of short-term financing. Characteristics Summary of Key Features of Common Sources of Short-Term Financing Type of short-term financing TABLE 15.2 CHAPTER 15 Current Liabilities Management 657 Commercial banks and commercial finance companies Commercial banks and commercial finance companies (2) Factoring Manufacturers' captive financing subsidiaries, commercial banks, and commercial finance companies Commercial banks and commercial finance companies (1) Floating liens (2) Trust receipts (3) Warehouse receipts Selected accounts are sold—generally without recourse—at a discount. All credit risks go with the accounts. Factor will lend (make advances) against uncollected accounts that are not yet due. Factor will also pay interest on surplus balances. Typically done on a notification basis. Selected accounts receivable are used as collateral. The borrower is trusted to remit to the lender on collection of pledged accounts. Done on a nonnotification basis. Inventory used as collateral is placed under control of the lender either through a terminal warehouse or through a field warehouse. A third party—a warehousing...
View Full Document
This document was uploaded on 01/19/2014.