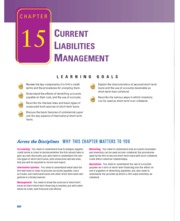 This is the end of the preview.
Sign up
to access the rest of the document.
Unformatted text preview: rm, one-time loan made to a borrower who needs funds for a specific purpose for a short period. EXAMPLE A single-payment note can be obtained from a commercial bank by a creditworthy business borrower. This type of loan is usually a one-time loan made to a borrower who needs funds for a specific purpose for a short period. The resulting instrument is a note, signed by the borrower, that states the terms of the loan, including the length of the loan and the interest rate. This type of short-term note generally has a maturity of 30 days to 9 months or more. The interest charged is usually tied in some way to the prime rate of interest. Gordon Manufacturing, a producer of rotary mower blades, recently borrowed $100,000 from each of two banks—bank A and bank B. The loans were incurred on the same day, when the prime rate of interest was 9%. Each loan involved a 90-day note with interest to be paid at the end of 90 days. The interest rate was set at 11/2% above the prime rate on bank A's fixed-rate note. Over the 90-day period, the rate of interest on this note will remain at 10 1/2% (9% prime rate 1 1/2% increment) regardless of fluctuations in the prime rate. The total interest cost on this loan is $2,625 [$100,000 (101/2% 90/360)]. The effective 90-day rate on this loan is 2.625% ($2,625/$100,000). 644 PART 5 Short-Term Financial Decisions Assuming that the loan from bank A is rolled over each 90 days throughout the year under the same terms and circumstances, its effective annual interest rate is found by using Equation 4.23. Because the loan costs 2.625% for 90 days, it is necessary to compound (1 0.02625) for four periods in the year (that is, 360/90) and then subtract 1: Effective annual rate (1 0.02625)4 1 1.1092 1 0.1092 10.92% The effective annual rate of interest on the fixed-rate, 90-day note is 10.92%. Bank B set the interest rate at 1% above the prime rate on its floating-rate note. The rate charged over the 90 days will vary directly with the prime rate. Initially, the rate wil...
View Full Document
This document was uploaded on 01/19/2014.