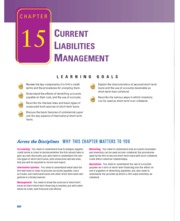 This is the end of the preview.
Sign up
to access the rest of the document.
Unformatted text preview: ure appeals to the customer who wants something unique for his or her home or apartment. Most Ligne Moderna furniture is built by special order, because a wide variety of upholstery, accent trimming, and colors are available. The product line is distributed through exclusive dealership arrangements with well-established retail stores. Casa de Diseño's manufacturing process virtually eliminates the use of wood. Plastic and metal provide the basic framework, and wood is used only for decorative purposes. Casa de Diseño entered the plastic-furniture market in late 1998. The company markets its plastic-furniture products as indoor–outdoor items under the brand name "Futuro." Futuro plastic furniture emphasizes comfort, durability, and practicality and is distributed through wholesalers. The Futuro line has been very successful, accounting for nearly 40 percent of the firm's sales and profits in 2003. Casa de Diseño anticipates some additions to the Futuro line and also some limited change of direction in its promotion in an effort to expand the applications of the plastic furniture. Ms. Leal has decided to study the firm's cash management practices. To determine the effects of these practices, she must first determine the current operating and cash conversion cycles. In her investigations, she found that Casa de Diseño purchases all of its raw materials and production supplies on open account. The company is operating at production levels that preclude volume discounts. Most suppliers do not offer cash discounts, and Casa de Diseño usually receives credit terms of net 30. An analysis of Casa de Diseño's accounts payable showed that its average payment period is 30 days. Leal consulted industry data and found that the industry average payment period was 39 days. Investigation of six California furniture manufacturers revealed that their average payment period was also 39 days. Next, Leal studied the production cycle and inventory policies. Casa de Diseño tries not to hold an...
View Full Document
This document was uploaded on 01/19/2014.