This preview shows page 1. Sign up to view the full content.
View Full Document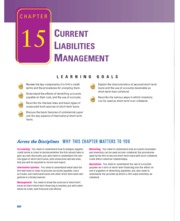 This is the end of the preview.
Sign up
to access the rest of the document.
Unformatted text preview: er secured loans less risky than unsecured loans. In addition, negotiating and administering secured loans is more troublesome for the lender than negotiating and administering unsecured loans. The lender therefore normally requires added compensation in the form of a service charge, a higher interest rate, or both. Institutions Extending Secured Short-Term Loans commercial finance companies Lending institutions that make only secured loans—both shortterm and long-term—to businesses. The primary sources of secured short-term loans to businesses are commercial banks and finance companies. Both institutions deal in short-term loans secured primarily by accounts receivable and inventory. The operations of commercial banks have already been described. Commercial finance companies are lending institutions that make only secured loans—both short-term and long-term—to businesses. Unlike banks, finance companies are not permitted to hold deposits. Only when its unsecured and secured short-term borrowing power from the commercial bank is exhausted will a borrower turn to the commercial finance company for additional secured borrowing. Because the finance company generally ends up with higher-risk borrowers, its interest charges on secured shortterm loans are usually higher than those of commercial banks. The leading U.S. commercial finance companies include the CIT Group and GE Capital. The Use of Accounts Receivable as Collateral Two commonly used means of obtaining short-term financing with accounts receivable are pledging accounts receivable and factoring accounts receivable. Actually, only a pledge of accounts receivable creates a secured short-term loan; factoring really entails the sale of accounts receivable at a discount. Although factoring is not actually a form of secured short-term borrowing, it does involve the use of accounts receivable to obtain needed short-term funds. Pledging Accounts Receivable pledge of accounts receivable The use of a firm's accounts receivable as security, or collateral, to obtain a sho...
View Full Document
This document was uploaded on 01/19/2014.