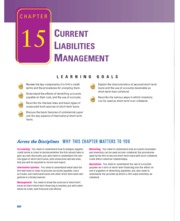 This is the end of the preview.
Sign up
to access the rest of the document.
Unformatted text preview: its interest in the collateral, the lender files a lien, which is a publicly disclosed legal claim on the collateral. For an example of the complete pledging process, see the book's Web site at www.aw.com/gitman. Notification Pledges of accounts receivable are normally made on a nonnotification basis, meaning that a customer whose account has been pledged as collateral is not notified. Under the nonnotification arrangement, the borrower still collects the pledged account receivable, and the lender trusts the borrower to remit these payments as they are received. If a pledge of accounts receivable is made on a notification basis, the customer is notified to remit payment directly to the lender. Pledging Cost The stated cost of a pledge of accounts receivable is normally 2 to 5 percent above the prime rate. In addition to the stated interest rate, a service charge of up to 3 percent may be levied by the lender to cover its administrative costs. Clearly, pledges of accounts receivable are a high-cost source of shortterm financing. Factoring Accounts Receivable factoring accounts receivable The outright sale of accounts receivable at a discount to a factor or other financial institution. factor A financial institution that specializes in purchasing accounts receivable from businesses. nonrecourse basis The basis on which accounts receivable are sold to a factor with the understanding that the factor accepts all credit risks on the purchased accounts. Factoring accounts receivable involves selling them outright, at a discount, to a financial institution. A factor is a financial institution that specializes in purchasing accounts receivable from businesses. Some commercial banks and commercial finance companies also factor accounts receivable. Although it is not the same as obtaining a short-term loan, factoring accounts receivable is similar to borrowing with accounts receivable as collateral. Factoring Agreement A factoring agreement normally states the exact conditions and proced...
View Full Document
This document was uploaded on 01/19/2014.