This preview shows page 1. Sign up to view the full content.
View Full Document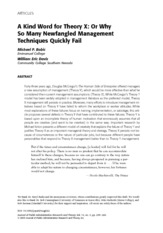 This is the end of the preview.
Sign up
to access the rest of the document.
Unformatted text preview: ors and adapters. Psychological Reports 61, no. 2:411–16. Maupin, James R. 1993. Control, efficiency, and the street-level bureaucrat. Journal of Public Administration Research and Theory 3, no. 3:335–57. McGregor, Douglas. 1944. Conditions of effective leadership in the industrial organization. Journal of Consulting Psychology 8, no. 2:55–63. ———. 1960. The human side of enterprise. New York: McGraw-Hill. ———. 1961. New concepts of management. The Technology Review 63, no. 4:2– 4. Bobic and Davis A Kind Word for Theory X ———. 1967. The professional manager. New York: McGraw Hill. McNeilly, Kevin M., and Ronald E. Goldsmith. 1992. The moderating effect of sales managers' approach to problem solving on the salesperson satisfaction/intention to leave relationship. Journal of Social Behavior and Personality 7, no. 1:139–50. Mihal, W. L., P. A. Sorce, and T. E. Comte. 1984. A process model of individual career decision-making. Academy of Management Review 9, no. 1:93–103. Mook, D. G. 1987. Motivation: The organization of action. New York: Norton. Moussavi, Farzad, and Donald L. Ashbaugh. 1995. Perceptual effects of participative, goal-oriented performance appraisal: A field study in public agencies. Journal of Public Administration Research and Theory 5:331– 44. Mulligan, Glenn, and William Martin. 1980. Adapters, innovators, and the Kirton Adaption-Innovation Inventory. Psychological Reports 46, no. 3, pt. 1:883–92. Oswald, Andrew. 1999. Britain only 17 in new Job-Satisfaction League table. West Midlands, United Kingdom: University of Warwick Coventry. Pearson, Elaine M. 1994. A new look at Maslow's humanism through radical and postmodern criticism. Ann Arbor: University of Michigan Dissertation Services. ———. 1999. Humanism and individualism: Maslow and his critics. Adult Education Quarterly 50, no. 1:41–55. Pettigrew, Amy C., and Margaret O. King. 1993. A comparison between scores on Kirton's inventory for nursing students and a general student population. Psychological Reports 73, no. 1:339– 45. Porat, Benjami...
View Full Document
This document was uploaded on 01/22/2014.