This preview shows page 1. Sign up to view the full content.
View Full Document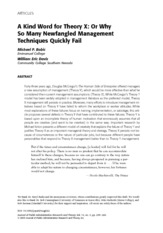 This is the end of the preview.
Sign up
to access the rest of the document.
Unformatted text preview: ovation Inventory. Perceptual and Motor Skills 66, no. 2:667–71. Bennis, Warren, Edgar H. Schein, and Caroline McGregor. 1966. Leadership and motivation: Essays of Douglas McGregor. Cambridge: The MIT Press. 259 260 Journal of Public Administration Research and Theory Bennis, Warren, Gary Heil, and Deborah Stephens. 2000. Douglas McGregor, revisited: Managing the human side of enterprise. New York: John Wiley. Berman, Evan M., and Jonathan P. West. 1995. TQM in American cities: Hypotheses regarding commitment and impact. Journal of Public Administration Research and Theory 5:213–30. Blai, Boris. 1964. An occupational study of job satisfaction and need satisfaction. The Journal of Experimental Education 32, no. 4:383–88. Bobic, Michael, Eric Davis, and Robert Cunningham. 1997. The Kirton Adaptation-Innovation Inventory: Validity issues, practical questions. Review of Public Personnel Administration 18 (spring):18–31. Buijs, Jan. 1998. Viewpoint: Towards a new Theory X. Creativity and Innovation Management 7, no. 1:17–22. Buss, A. R. 1979. Humanistic psychology as liberal ideology: The socio-historical roots of Maslow's theory of self-actualization. Journal of Humanistic Psychology 193:43–55. Camp, Scott D. 1995. Assessing the effects of organizational commitment and job satisfaction on turnover: An event history approach. The Prison Journal 74, no. 3:279–305. Carne, G. C., and Michael J. Kirton. 1982. Styles of creativity: Test-score correlations between Kirton Adaption-Innovation Inventory and Myers-Briggs Type Indicator. Psychological Reports 50, no. 1:31–36. Caruth, Don, and Robert M. Noe III. 1986. Motivate! In Motivation of personnel, edited by A. Dale Timpe. New York: Facts on File. Ciulla, Joanne B. 2000. The working life: The promise and betrayal of modern work. New York: Random House. Clapp, R. G., and S. M. De Ciantis. 1989. Adapters and innovators in large organizations: Does cognitive style characterize actual behavior of employees at work? An...
View Full Document
This document was uploaded on 01/22/2014.