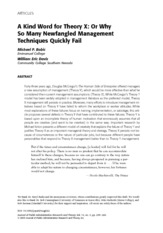 This is the end of the preview.
Sign up
to access the rest of the document.
Unformatted text preview: mith 1984; Foxall and Hackett 1992b; Jacobson 1993). Innovators challenge their colleagues to find new tasks rather than better ways of fulfilling current responsibilities (Kirton 1976). Innovators prefer to break the rules and are generally inefficient in their problem-solving methods but show great originality (Bobic, Davis, and Cunningham 1999). Innovators do things "differently" (Korth 2000). It is important to note again that adapters and innovators may be equally creative but that their creativity manifests itself in different ways. KAII: Validity and Reliability Issues Numerous studies have examined the validity of the KAII. Kirton (1976) hypothesized that his index accurately, validly, and reliably measured problem-solving styles. Most studies confirm the construct validity of the theory, the scale, and the subscales (Mulligan and Martin 1980; Kirton 1980, 1985b, 1989a; Goldsmith 1985, 1986a; Hammond 1986; Masten and Caldwell-Colbert 1987; Robertson et al. 1988; Beene and Zelhart 1988; Taylor 1989a, 1989b; Arbet 1991; Kirton 1992; Selby et al. 1993; Foxall and Hackett 1992a, 1992b; Bobic and Davis A Kind Word for Theory X Fleenor and Taylor 1994; Bobic, Davis, and Cunningham 1999). Multiple studies have also confirmed the content validity of the KAII (Kirton and McCarthy 1985; Robertson et al. 1989; Singer 1992; Foxall and Hackett 1992b; Bobic, Davis, and Cunningham 1999). The KAII performs similarly to and is highly correlated with other psychological scales such as the Myers-Briggs, the Torrance scale, the Cattell's Inventory, and the Gregoric Delineator (Kirton 1978; Keller and Holland 1978; Torrance and Horng 1980; Carne and Kirton 1982; Goldsmith 1984; Kirton and De Ciantis 1986; Goldsmith and Matherly 1986; Goldsmith 1987; Robertson et al. 1988; Isaksen and Puccio 1988; Elder 1989; Foxall and Payne 1989; Furnham 1990; Prato-Previde 1991; Foxall, Payne, and Walters 1992; Kubes 1992; Foxall and Bhate 1993; Jacobson 1993). Other studies have confirm...
View Full Document
This document was uploaded on 01/22/2014.