This preview shows page 1. Sign up to view the full content.
View Full Document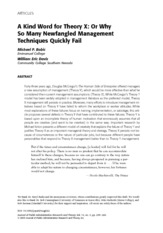 This is the end of the preview.
Sign up
to access the rest of the document.
Unformatted text preview: exploratory study. Psychological Reports 65, no. 2:503–13. Collins, James. 1996. Tapping human potential to enhance performance. Inc. 18:1–2. ComputerWorld. 1999. 1999 satisfaction survey. ComputerWorld. From www.computerworld.com/cwi. The Conference Board (TCB). 2000. Special consumer survey report: American workers grow increasingly dissatisfied with their jobs. New York: The Conference Board. Crewson, Philip E. 1997. Public-service motivation: Building empirical evidence of incidence and effect. Journal of Public Administration Research and Theory 7 (October):499–518. DEVA Partnership, Ltd. n.d. Kirton adaption and innovation inventory. Retrieved on May 21, 2003, from Devapartner.com/kai.html. Elder, Richard L. 1989. Relationships between adaption-innovation, experienced control, and state-trait anxiety. Psychological Reports 65, no. 1:47–54. Faulkner, Harold Underwood, and Tyler Kepner. 1950. America: Its history and people. New York: McGraw-Hill. Fernando, Mario. 2001. Are popular management techniques a waste of time? Academy of Management Executive 15, no. 3:138– 40. Fleenor, John W., and Sylvester Taylor. 1994. Construct validity of three self-report measures of creativity. Educational & Psychological Measurement 54, no. 2:464–70. Foxall, Gordon R. 1990. An empirical analysis of mid-career managers' adaptive-innovative cognitive styles and task orientations in three countries. Psychological Reports 66, no. 3, pt. 2:1115–24. Foxall, Gordon R., and Seema Bhate. 1993. Cognitive styles and personal involvement of market initiators for "healthy" food brands: Implications for adoption theory. Journal of Economic Psychology 14, no. 1:33–56. Foxall, Gordon R., and Paul M. Hackett. 1992a. The factor structure and construct validity of the Kirton Adaption-Innovation Inventory. Personality and Individual Differences 3, no. 9:967–75. ———. 1992b. Cognitive style and extent of computer use in organizations: Relevance of sufficiency of originality, efficiency and rule-conformity. Perceptual and Mo...
View Full Document
This document was uploaded on 01/22/2014.