This preview shows page 1. Sign up to view the full content.
View Full Document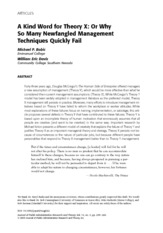 This is the end of the preview.
Sign up
to access the rest of the document.
Unformatted text preview: tives" (664). In simple terms, such organizations function best if they have limited autonomy and there is strong regulatory control over their actions. Research also suggests that regulated monopolies function best when government overseers exercise a directive style of management, rather than the more inclusive style suggested by McGregor. This conclusion seems true at least of the nuclear power industry. Verma, Mitnick, and Marcus (1999) studied several states' efforts to replace direct oversight of the nuclear power industry with performance-based incentive programs as a way to increase safety and efficiency. What they discovered was that incentive programs were less effective in controlling industry behavior. In some cases, incentive programs led to decreased efficiency and increased danger to the public. Regulated agencies often cannot delegate downward because many actions are illegal or would violate union-management agreements. Other scholars find that directed control of agencies might have negative effects. Maupin (1993) found that the Arizona Prisons System's method for following parolees worked best if parole officers had discretion in dealing with violations; however, Maupin points out (unintentionally) that many people associated with the program were innovators rather than adapters (335, for example). A second implication from this work is that we should reconsider why management methods such as TQM cannot claim universal success or support, even among public administration theorists (Staw and Epstein 2000; Fernando 2001). Wilkinson, Godfrey, and Marchington (1997) summarize very effectively the differences in opinion over the utility and success of TQM to transform the work environment; they state that TQM attempts to "empower the workforce by delegating responsibility to those who actually carr[y] out the task" (799). When a TQM system fails to transform the work environment, blame is often laid at the feet of middle-level managers, who resist any method that reduces their power or role as "experts" in...
View Full Document
This document was uploaded on 01/22/2014.