This preview shows page 1. Sign up to view the full content.
View Full Document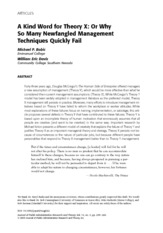 This is the end of the preview.
Sign up
to access the rest of the document.
Unformatted text preview: the extreme ends" (Kirton 1984, 11). Kirton (and others) created an index of creativity in 1976. It locates creatively "adaptive" people at one end of the scale and creatively "innovative" people at the other end. Kirton's scale (the Kirton Adaptive-Innovative Inventory, or KAII) measures respondents' tendency to be innovative or adaptive in their work styles. The KAII is a 33-item questionnaire on which respondents indicate how difficult or easy it is for them to present themselves "over time" in specific ways (Kirton 1976; KAII form). Scale scores may range from 33 (highly adaptive) to 160 (highly innovative) with a mean response of 96 (Kirton 1984; Selby et al. 1993; Rosenfeld et al. 1993). Later research identified three "modes" or substrains of creativity identified through factor analysis of the original KAII (Kirton 1978; Taylor 1989a). These modes of creativity have been labeled the "rules-conforming" mode, the "efficiency" mode, and the "sufficiency of originality" mode. Adapters and innovators are identified according to their responses to the overall KAII and the individual subscales. An adapter seeks to conform to accepted norms (Goldsmith 1984; Kirton 1976, 1989b). He or she uses conventional rules and perceptions of work, favors precision and methodical approaches to problem solving, and is seen as a safe, predictable, and consistent person who seldom approaches problems from new or unusual perspectives (Kirton 1976). In terms of the three modes (originality, efficiency, rules conformity), adapters tend to have a high degree of rules conformity, emphasize efficiency, and do not generate original or untried solutions to problems. Adapters generally seek to "do things better" within existing systems (Korth 2000). An innovator is undisciplined, willing to break traditional paradigms and "go outside the rules." Innovators are most successful in unstructured and rapidly changing environments in which self-confident decision making is important (Golds...
View Full Document
This document was uploaded on 01/22/2014.