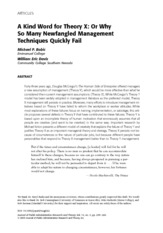 This is the end of the preview.
Sign up
to access the rest of the document.
Unformatted text preview: aining sessions, managers tend to revert to their basic management methods over time (Bobic, Davis, and Cunningham 1999). In other words, creative innovation, the type of creativity Maslow and McGregor assumed was widely distributed in the population, may only account for 40 percent of the population (Kirton 1976). This type of creativity seems to be greater among the type of manager McGregor was studying (upper-level management) than among first-line supervisors (Kirton 1985a). This is an important and compelling point: Most management positions available are staffed by people for whose personalities Theory Y is ill suited. Innovators and adapters respond differently to a Theory Y style of leadership. If a manager uses Theory Y assumptions with a group of innovators, he or she is likely to have a 253 254 Journal of Public Administration Research and Theory great deal of success. If that same manager applies Theory Y methods to a group of adapters, the reaction is likely to be negative because adapters in general are not seeking to break out of molds or change paradigms. Adapters enjoy structured environments and find great satisfaction in close detail work and clear procedures. Kirton notes that adapters bring to their team a sense of stability, order, and continuity: they provide a safe base from which innovators may take risks. Innovators bring to group dynamics the task orientation and sense of change that a group may need in addressing a problem (Kirton 1984, 7). While it may be true for innovators that "a decentralized organization provides an environment in which the individual, through taking greater responsibility for his own behavior, obtains intrinsic rewards" (McGregor 1960, 195), such an environment would drive an adapter to distraction (for a similar criticism of Maslow's work, see Maccoby 1976). Kirton's research directly contradicted a number of key assumptions in McGregor's work. First, if Kirton was correct, and the tendency to be adaptive or innovative is deeply ingrained,...
View Full Document
This document was uploaded on 01/22/2014.