This preview shows page 1. Sign up to view the full content.
View Full Document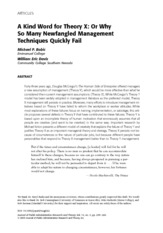 This is the end of the preview.
Sign up
to access the rest of the document.
Unformatted text preview: k in their work is clear direction from management (ComputerWorld 1999). Moreover, information technology (IT) workers indicate that they are satisfied (and dissatisfied) with the same things as other workers. They believe they are underpaid and that they lack adequate vacation time (ComputerWorld, 1999). But most IT workers like their bosses and would like clearer direction in job assignments. Thus, one cannot simply assume that IT people will be innovators or that an innovative management style will satisfy all workers. In fact, given the innovative nature of IT work, one might suspect that an adapter boss would be more likely to keep projects on time and on budget. Ad hoc organizations are a relatively new entity. These are organizations like Dish Network or DirecTV that have one main corporation offering a service but rely on locally 257 258 Journal of Public Administration Research and Theory contracted employees to carry out specific tasks. Bennis (2000) claimed that this type of organization in particular requires a creative management style, that attempting to control the actions of literally hundreds of employees spread over the entire country seems an unmanageable task unless one is willing to allow for innovation among one's subcontractors. However, this has not proven to be the case. Both Dish Network and DirecTV have discovered that to ensure consistent, quality installations, they must require contracted installers to follow specific guidelines and to submit photographic evidence of completed work. Dish Network even requires that customers sign a work form indicating that installations met these guidelines and their requirements. The main challenge presented by quasi-governmental organizations is that of democratic control and accountability. Koppel (1999) studied the U.S. Venture Capital Fund program and its two subsidiaries, the Enterprise Funds and the Overseas Private Investment Corporation, and concluded that in order to provide democratic accountability, these organizations require close regulation and "clear, unambiguous policy objec...
View Full Document
This document was uploaded on 01/22/2014.