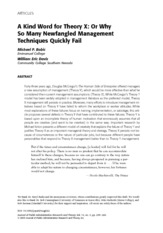 This is the end of the preview.
Sign up
to access the rest of the document.
Unformatted text preview: 00), and public school teachers (National Center for Education Statistics 1997) reveal substantial declines in job satisfaction in each field. However, each study also points out that dissatisfaction varies greatly depending on the gender, tenure, position, and salary of respondents. The aspect of work employees found most dissatisfying was the pay and benefits (Hart and Associates 1998; CB 2000), followed by advancement opportunities (CB 2000; Barrows and Wesson 2000), while dissatisfaction with the nature of the job itself ranked almost last 247 248 Journal of Public Administration Research and Theory as an option. However, not all surveys find high levels of dissatisfaction with work. The Conference Board survey, for example, found that while overall job satisfaction had declined from 1995 to 2000, more respondents in 2000 felt secure about their jobs than did respondents in 1995. The PRN News Service survey found that among its respondents, nearly 70 percent responded that they were satisfied or very satisfied with their jobs. Few workers expected their jobs to offer satisfaction of what Maslow would call esteem or self-actualizing needs (Hart and Associates 1998; PRN 2001). The difference in needs satisfaction also exists when comparing public managers to private-sector managers (Lan and Rainey 1992; Crewson 1997). These findings support an earlier study of what employees want from jobs conducted by Boris Blai (1964). Blai found that employees working in blue-collar occupations were far more concerned about lower-level needs, while upper-level, white-collar employees sought to satisfy higher-order needs from their work. Because the work environment today is less stable and more uncertain than it was during the 1950s and 1960s, one could simply state that this environment makes Theory X management more prevalent (Collins 1996) and perhaps as successful as Theory Y management. After all, if McGregor argued that the work environment of his day offered (or should have offered) people greater chances to fulfill themselves (1960,186), a return to a more uncertain time should create th...
View Full Document
This document was uploaded on 01/22/2014.