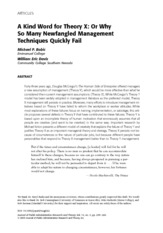 This is the end of the preview.
Sign up
to access the rest of the document.
Unformatted text preview: ity (Schmidt 1999). The loss of job security represents a serious challenge to managers (Barrows and Wesson 2000; Ciulla 2000, 231). If employees believe corporations will not be loyal to them and they see no reason to be loyal to companies, then managers cannot readily link individual needs to those of their companies. The problem is particularly acute because the loss of job security is coupled with a loss of loyalty. Barrows and Wesson (2000) have summarized literature suggesting that survivors of layoffs often respond with increased negative attitudes toward work. McGregor argued that management's goal was to assist employees in aligning their personal goals with those of their employer (1960, 55; in Bennis, Heil, and Stephens 2000, 14), but employees in today's work environment increasingly disbelieve that such a congruence of interests is realistic (Walesh 1997; Yankelovich and Immerwahr 1986). Job Satisfaction Americans became increasingly dissatisfied with their jobs throughout the 1990s. According to a Conference Board survey of five thousand households conducted by NFO Research Incorporated, there was an 8 percent decline in overall job satisfaction among U.S. workers in the last half of the decade (58.6 percent were "satisfied" or "very satisfied" in 1995, and only 50.7 percent were satisfied or very satisfied in 2000; Conference Board [CB] 2000). Americans are more dissatisfied with their work than are employees in Denmark, the Philippines, Cyprus, Switzerland, Israel, Spain, or The Netherlands (Oswald 1999). Oswald found that only 49 percent of Americans were "satisfied or completely satisfied" with their jobs. Dissatisfaction with current employment is highest among minorities and women (United Press International [UPI] 2001; Schmidt 1999), while higher executives and more senior personnel demonstrate the highest levels of satisfaction (Hamermesh 2001; Traut, Larsen, and Feimer 2000). Recent surveys of newsroom employees (UPI 2001), nursing professionals, doctors, public servants (Barrows and Wesson 20...
View Full Document
This document was uploaded on 01/22/2014.